Brands have rolled out innovations both useful and way-out-there that you can own yourself. By Sarah
COURTESY
It's hard for a non-tech person to keep up with the latest inventions, but it's even harder for a tech person who always succumbs to the coolest ones. That agonizing dilemma of finding yourself lusting after weird electronic novelties—even if you reckon you absolutely don't need them—really hits home for the technophiles out there. Yes, it is a laborious process to track it all; however, holding the new, nifty thing in your hands when it finally hits the market makes it all worth it.
The tech trends in this year's product launches from big brands can be categorized into two purposes: to improve your quality of life, or to boost up your ego (or both). For instance, some pricey electronics bring high-tech luxury to home décor or polish up your lifestyle to that of a millionaire. But the more practical gadgets will improve health and wellness, or augment gaming experiences, for example, while still keeping things cool. Are this year's releases all quotidian necessities like smartphones? Not really. Regardless, you'll wind up lavishing a big chunk of your tax refund on them for sure. Must keep yourself entertained and up-to-date in this material world, right?
If you're getting encouraged to blow big money on some new tech, we recommend these 27 drops in 2021, which you couldn't help but flaunt. Make your friends envy your colorful iMac or smart TV that also works full-time as wall décor. If vanity is your vice, then treat yourself with the noise-canceling wireless headphones or premium home speaker that you'll never want to turn off. These gadgets are great for gifting, too, to your tech-literate loved ones. And even if you'd never actually own one of these products, it's still nice to see where the industry is heading—sustainable and smart and wireless continue to be buzzwords—and what it's steering clear of. Besides, you'd have to consider space travel a hobby to be able to afford half of them.
Want to ensure your tech is up to date—and stylish as hell? Join Esquire Select.Roam Portable Speaker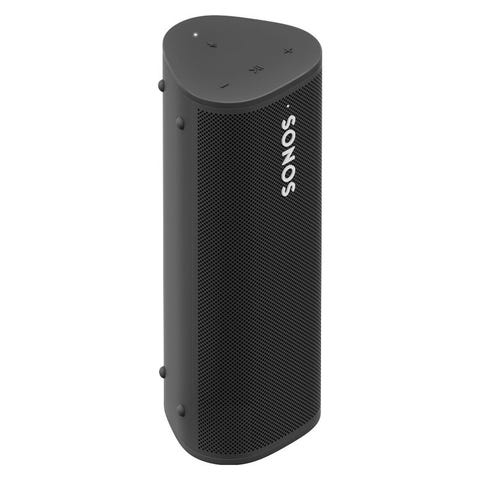 SONOS$179 AT SONOS
Size matters, but Sonos's new speaker truly defies the limitations of a tiny speaker. The Roam is a lightweight, outdoor-friendly home speaker—something of an oxymoron in tech. If you think of your life as a motion picture, Roam's ultra-portability and 10-hour battery life are meant to beam out the soundtrack for your every day, in and out of the home. And its built-in auto-tuning feature, which adapts to audio content type, will optimize the sound based on where you are. Breaking all the boundaries for a downsized speaker while being dust-and-water-resistant, Roam is likely the coolest adventure-friendly speaker on the market now. —M.L.Studio Buds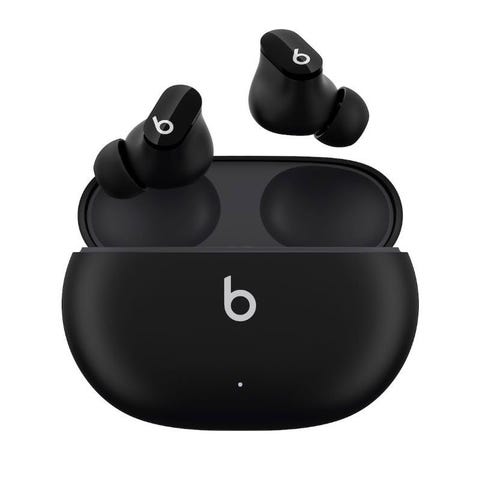 BEATS BY DR. DRE$115 AT WALMART
Cancel all that noise about "canceled" celebrities with Beats' 2021 Studio Buds. Their Active Noise Canceling mode uses a filter to continuously detect and block out any unsolicited wavelength that might be intrusive to your delicate eardrums. Audio-wise, Studio Buds have a processor that treats your ears to the right amount of loudness, bass, and reverb. Another perk comes from their up-to-24-hours of playback and a five-minute fast-fuel charging. —M.L.ADVERTISEMENT – CONTINUE READING BELOWhttps://a7b7ec467926dbf672c9b532968678b4.safeframe.googlesyndication.com/safeframe/1-0-38/html/container.htmlhttps://a7b7ec467926dbf672c9b532968678b4.safeframe.googlesyndication.com/safeframe/1-0-38/html/container.htmlOM 5 Smartphone Gimbal Stabilizer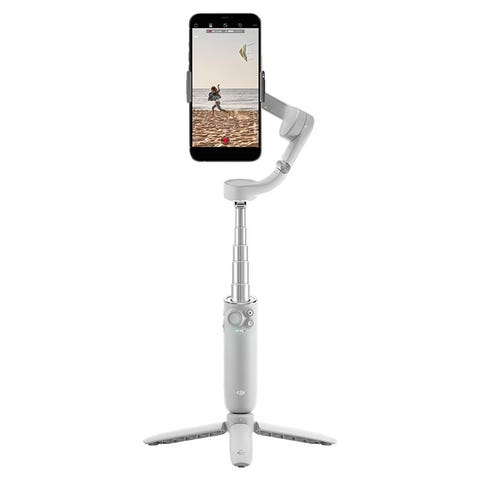 DJI is proof that the selfie-stick is not dead in 2021, not when vlogging is spiraling out of control. OM 5 is its new portable smart gimbal stabilizer, which can exalt your smartphone photography skills to their full potential. For starters, it simply does not shake, at all, and its ActiveTrack 4.0 formula is able to precisely track objects in the frame for a high-resolution focus, even if those objects are moving really quickly. Bundled with a built-in extension rod, OM 5 is what you need for a flawless selfie or seamless livestream, as any YouTube/TikTok influencer 101 course will teach you. —M.L.Galaxy Z Flip3 Bespoke Edition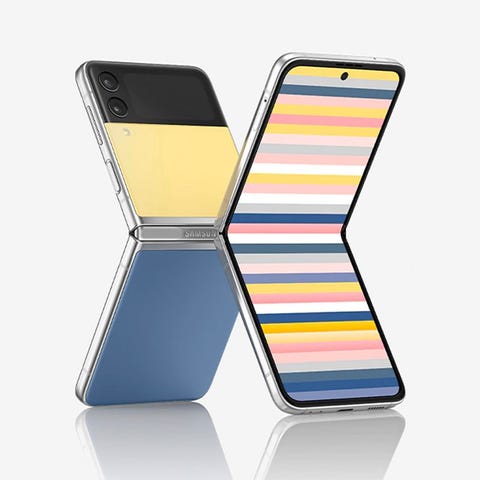 SAMSUNGFROM $500 AT SAMSUNG
Flexible displays are redefining what electronics today can accomplish. Samsung's Galaxy Z Flip3 smartphone, which can fold itself in half, might've seemed like a sci-fi fantasy a few years ago, but it is now here, less gimmicky and more feature-packed than you'd expect. When folded, this phone's 1.9-inch cover screen display does quite a lot, from previewing notifications to taking selfies to changing songs. Opened, it's a big ole phone screen. Samsung's brand-new Bespoke editions are ideal for multifaceted users who'd like to personalize their foldable phones with different colorways. —M.L.ADVERTISEMENT – CONTINUE READING BELOWSTORIES Smart Glasses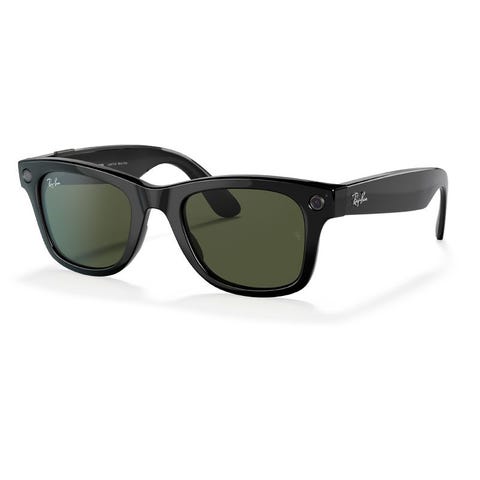 RAY-BAN$299 AT RAY-BAN
While this is no VR set, it's the latest fashion-meets-tech iteration. Ray-Ban's first-gen smart glasses bring a lot to the table, including a chance to star in a real-life dystopian sci-fi flick, controversially directed by Facebook. They have a camera for capturing first-person-perspective content in HD, a single-touch pad for controlling music and the camera, and near-ear speakers so you can leave your headphones or smartphone in pocket while answering a call. Now available for you to channel The Matrix this Halloween, or as your daily outfit if you're really that into Neo and Trinity. —M.L.Polaroid Now+ i‑Type Instant Camera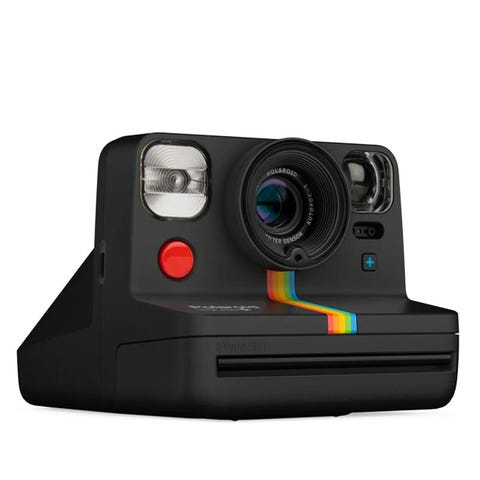 POLAROID$150 AT POLAROID.COM
Rendering an "innovative" instant camera seems like an onerous task. The key resides in fulfilling the needs of photographers—which is, simply, to take the best film photographs—in one step, without any need for Photoshop features or touching-up afterwards. With five lens filters to seize every visual style, Polaroid's new camera gives you the tools to play with saturation, contrast, and effects. You can even connect it with the mobile app to optimize focusing and take images like a master cinematographer, or at least try. And did we mention light painting, double exposure, and manual mode for you camera geeks? —M.L.ADVERTISEMENT – CONTINUE READING BELOWAirTag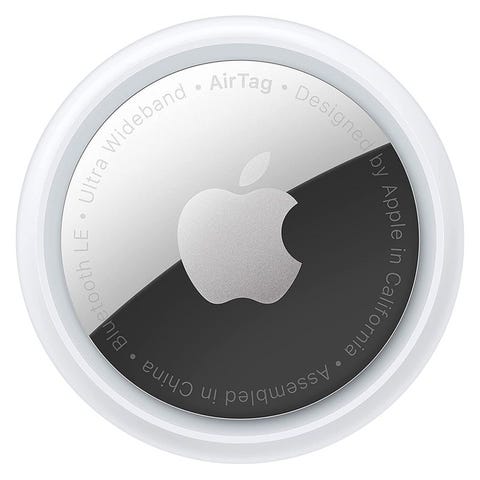 APPLE$29 AT AMAZON
One of the many Apple gadgets unveiled this year is the Airtag, meant for people, probably yourself, who just always forget stuff. Simply tag it onto your valuables so you can keep track of and find them in the "Find My" app. It's got a built-in speaker to help you, too, that'll play sound in the hopes your ears are sharp enough to catch its location. With Airtag, Apple friends in your network can chime in and help find your tagged items. Make it a treasure hunt. —M.L.Gen 6 Smartwatch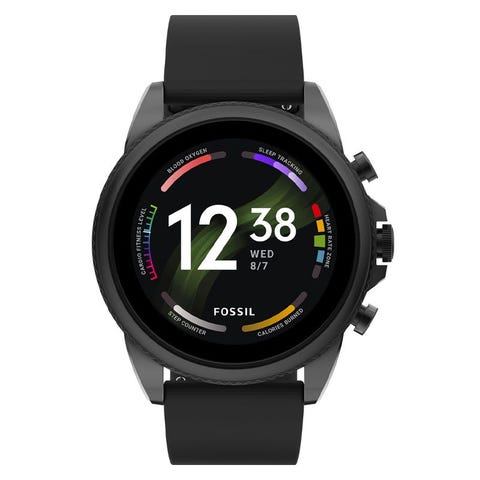 FOSSIL$299 AT FOSSIL
A smartwatch that retains the look of a classic, traditional timepiece is a master in disguise, and Fossil seems to be the go-to brand for it. Luckily, Fossil's newest gen of smartwatches keeps up with the fast-changing wearable world. It has an improved sensor for fitness tracking and comes equipped with the latest Snapdragon Wear 4100+ chipset, which means faster app loading, better connectivity, and an overall more unobstructed user experience. —M.L.SRS-RA5000 360 Reality Audio Speaker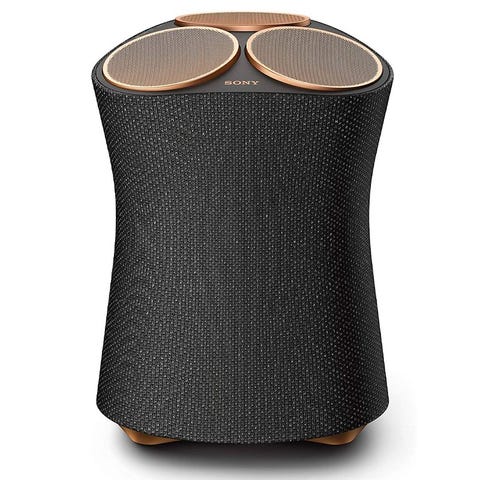 SONY$698 AT AMAZON
Sony's beautifully sculpted speaker is able to produce a soundscape so wide that the audio will sound like it's manifesting from points all around your head. If you're into 8D remixes of music on YouTube, then this speaker will simulate that immersive, 360-degree experience to overwhelm your sound receiving nerves. Imbued with Sony's secret algorithm, it can also broadcast tracks in an ambient wave to fill the entire room. That's the live performance experience we've all been missing for quite some time. —M.L.ADVERTISEMENT – CONTINUE READING BELOWBeast Blender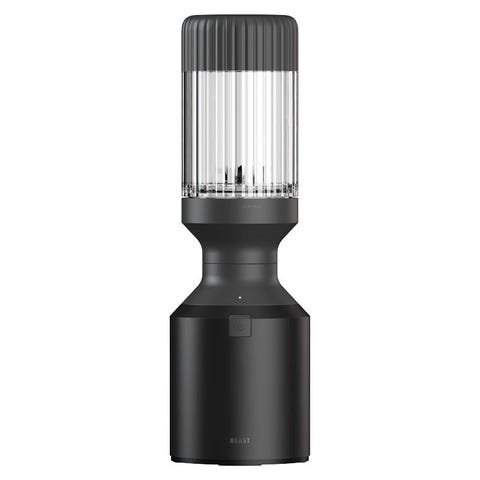 BEAST$155 AT HUCKBERRY
This blender's namesake is its powerful performance. Like most of its peers, it can produce creamy smoothies—or any nutritious concoction. But if you're looking for a blender that is more hardcore, this machine's 12-rib design can create a turbulence so potent it pulls in and thoroughly melds even chunky, frozen, seed-filled ingredients—a really humanized trait for those who always forget to take stuff out of the freezer to thaw overnight. And while it works like a beast (and is called Beast), its look can in fact make an elegant addition to your kitchen. —M.L.The Frame QLED 4K Smart TV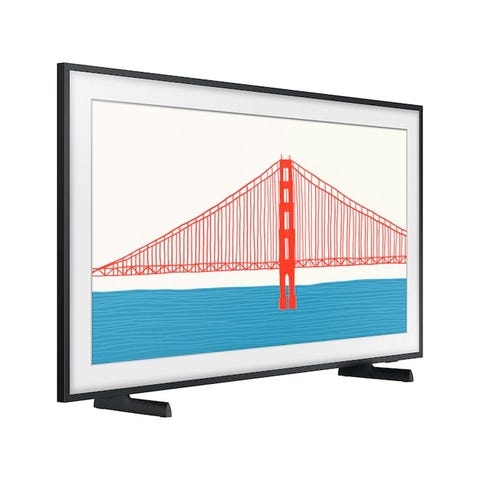 SAMSUNGFROM $450 AT SAMSUNG
We've got an imposter at home. It's The Frame by Samsung, which functions as a TV when it's on and can be transformed into an art piece when it's off. In fact, it blends into your wall décor exactly like a picture frame, but better, because not only can you watch your TV shows or news on its 4K resolution display, you can also turn on its Art mode to showcase your own photos or iconic artworks as if you've managed to steal Mona Lisa from the Louvre and hung her on your living room wall. For even more personalization, you can customize the bezel in multiple colorways to match your home's style. —M.L.ADVERTISEMENT – CONTINUE READING BELOWNanoe Salon Hair Dryer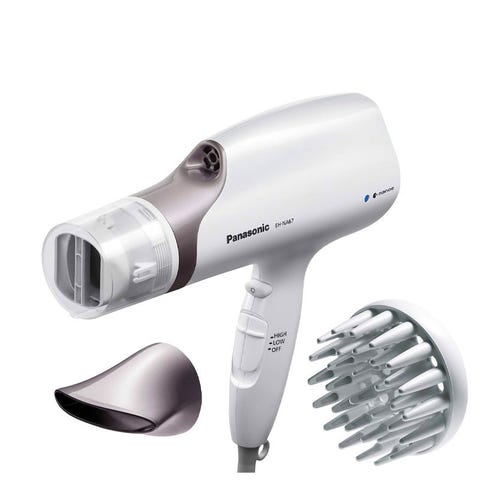 PANASONIC$150 AT AMAZON
We use hair dryers to, well, dry our hair. But Panasonic promises its new hairdryer will also nurture healthier hair. Nanoe is the name, and it dries hair by hydrating it. This paradox is achieved by drawing water from the air to create moisturizing particles that make sure each shaft and strand of your hair is sun-baked, but without any heat damage. And its nozzle uses a wig-wag motion to expeditiously cool your head till there are no hot spots. This might just be what all future hair dryers will be equipped with. —M.L.Smart Clock Charging Station Gen 2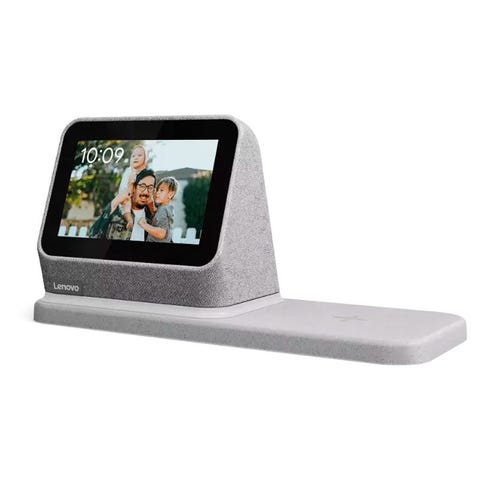 LENOVO$70 AT LENOVO.COM
New tech doesn't have to be completely new—it can be a revamp of a past invention or a combination of two. Lenovo's smart clock charging station is both, giving the alarm clocks we used to hate every morning the modern update of a wireless charger. It's smart too, meaning that it can check on traffic and weather, brief news, track reminders, display photos, turn off the light, lock the door, and play audio through its speaker. Wake up your drowsy, languid mood in the morning with its booming beep-beeps. At night, charge your Qi-devices while playing ASMR to give you the calm you need for easing into REM sleep. —M.L.ADVERTISEMENT – CONTINUE READING BELOWLSPX-S3 Glass Sound Speaker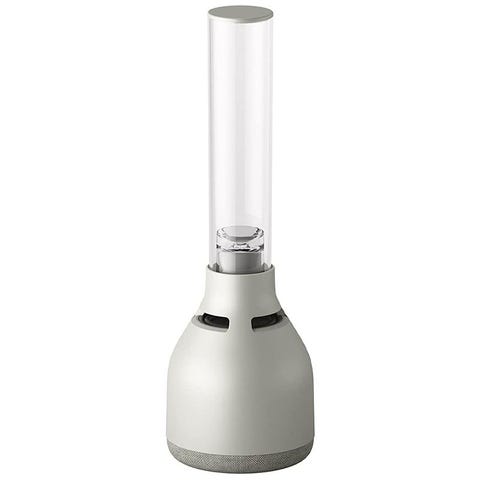 SONY$348 AT AMAZON
Behold, a speaker with a candle-like LED illumination, because who doesn't want to blast audio from a glass tube in 2021? Sony's candle speaker is designed to sound as good as it looks, and the standout is its omnidirectional transmission of sound that can even pierce through barriers to reach your ears, wherever you are in the room. At the very least, it can enhance your home's atmosphere with a flicker that glows and shimmers like a candle in the wind. —M.L.QuietComfort 45 Wireless Noise-Canceling Headphones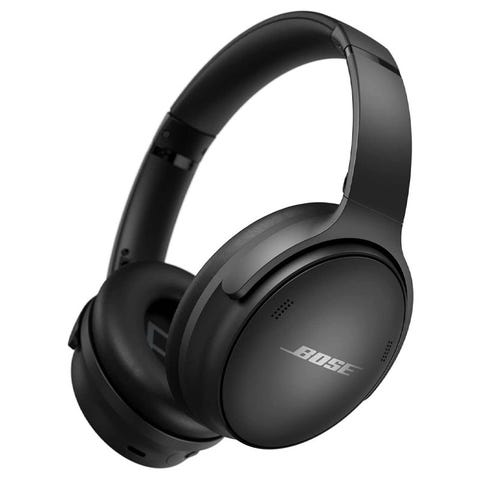 BOSE$329 AT AMAZON
What do we say to a 24-hour playtime with top-notch, over-ear comfort? Hell, yeah. Compared to the 700, Bose's previous noise-canceling headphone model, QuietComfort 45 has a back-to-basics look that feels much more heavy-duty. And no more slippery touchpad that sometimes just won't click. Instead, QuietComfort 45 has multi-function buttons for physically pushing. And its new "Aware" transparency mode permits you to re-engage with metropolitan happenings when you need to be surroundings-aware. While QuietComfort 45 just came out, you'll probably see it everywhere on flights and subways soon. —M.L.ADVERTISEMENT – CONTINUE READING BELOW2021 iMac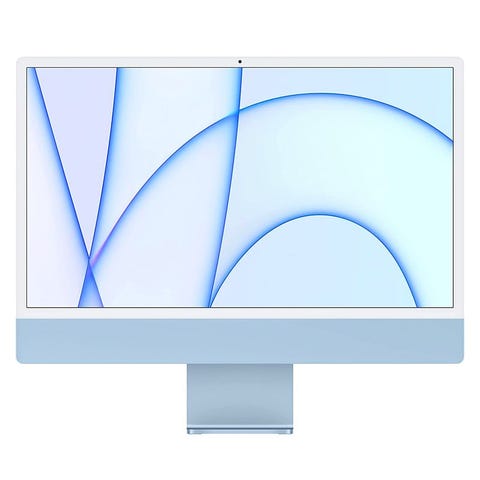 APPLE$1,259 AT AMAZON
When Apple announced this iMac, it caused quite a commotion on social media for being dressed in an array of iridescent hues. But don't underestimate it just because it is pink, or purple, or orange. For the first time, there is an iMac that has the best camera, mics, and speakers Apple has to offer, while boasting Touch ID and looking super skinny (just 11.5 millimeters thin). This is all enabled by the breakthrough M1 chip. With iMac, you can finally run many apps simultaneously without tapping on the desk and waiting for a response, or getting your nerves fried when the system crashes. And its 4.5L Retina display is just superbly stunning. —M.L.CFP301 DualBrew Pro Specialty Coffee System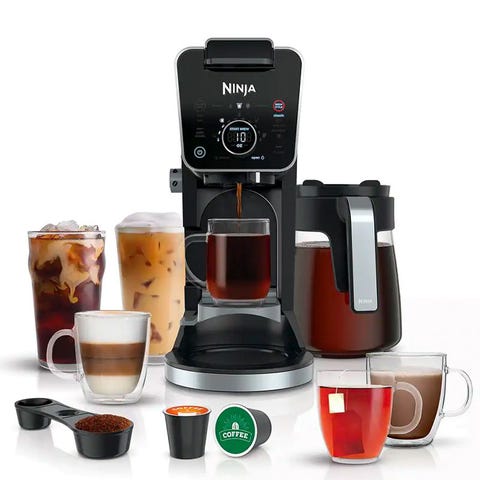 NINJA$200 AT AMAZON
Ninja's new coffee system is capable of brewing barista-level drinks, from both grounds and pods, too, for the open-minded caffeine addicts out there. Depending on what kind of coffee you're making, DualBrew automatically adjusts the temperature to match your brews, be it a silky latte or smooth macchiato. Better still, it's got a hot water dispenser so you don't have to ever worry when making oatmeal in the morning, ramen for dinner, or hot cocoa for guests. —M.L.ADVERTISEMENT – CONTINUE READING BELOWBlade 14 Laptop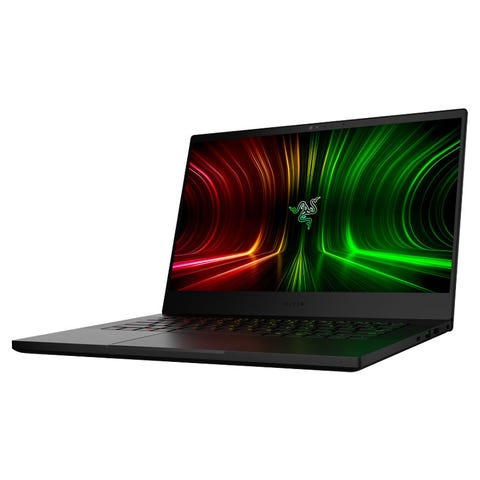 RAZER$2,100 AT AMAZON
Within this gaming laptop's sleek black visage, there resides an almighty processor—the Ryzen 9 5900HX, one of the fastest laptop processors available now—to swimmingly handle the most buffer-inducing games. That's the no-delay power you need to accurately shoot through hordes of enemies. It is also Razer's first Blade model with a processor from AMD. If you're a hardcore gamer, this could be your best investment in 2021. —M.L.OLED Rollable TV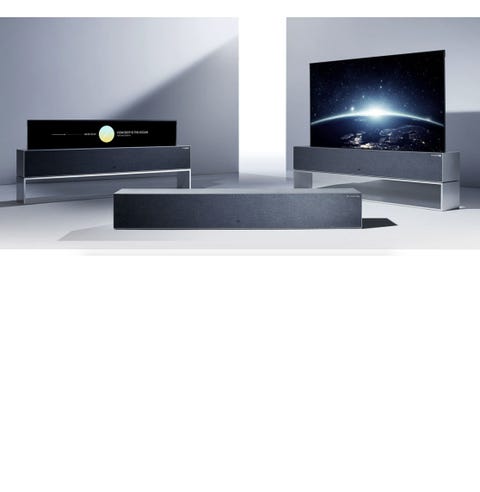 Nope, you are not mistaken. Read and look again: the world's first and only rollable TV, available for you at just $100,000. Can you believe it, all of your favorite shows and movies rolled into one disappearing surface, like a yoga mat? It might take a while to process such a masterpiece, but it's the future, and it is out of this world. "How is it possible?" is probably the first thing on your mind. The million-dollar trick is LG's OLED self-lit pixel technology that helps build the TV's paper-thin screen. Because of this flexibility, the TV can be rolled into three modes: zero screen view (it'll just function as a speaker), line view (it'll only display a basic control dashboard), and full-screen view for all the content you want. —M.L.SHOWER POWER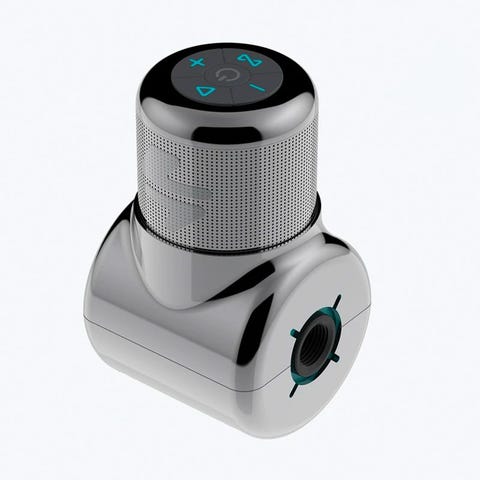 AMPERE$99 AT AMPERE.COM
Shower speakers are a very real if hyper-specific category of Bluetooth speaker. Having one will change you as a human being. This year saw a new contender in the subcategory, a Bluetooth speaker made from recycled materials that attaches directly to seemingly any showerhead and uses the flow of water to power itself. Or rather, hydropower itself. Like a watermill for music, more or less. —S.R.